Meet John Polewski
John Polewski is 62 years old, married  for 35 years, and a proud father.  He has been active in his community all his career, serving as Chairman of his local Chamber of Commerce and as president of his Rotary Club, and on the boards of several charitable and civic organizations.  
Among Mr. Polewski's recent civic commitments is his six years of service on the executive board of Brighter Tomorrows, a non-profit organization which provides shelter, food and necessities to abused women and children, along with counseling, transitional housing and life skills training so they can reclaim their lives and dignity. 
Legal Qualifications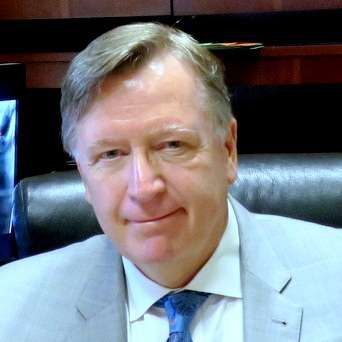 Well known and respected by both trial lawyers and judges, Mr. Polewski is now in his 35th year of law practice.  He has personally handled hundreds of personal injury, wrongful death and medical malpractice cases throughout Arkansas and Texas.  Among his other honors and acheivements are:
Mr. Polewski is certified by the

 

Board of Legal Specialization of the State Bar of Texas

 

as a Personal Injury Trial Law Specialist. This certification, obtained only after a difficult and specialized examination, extensive trial experience and recommendation by other trial lawyers and by trial judges, is by no means a routine accomplishment: less than 1.5% of all Texas lawyers possess this qualification.   Arkansas has no similar board certification process.
Due to his success in handling major personal injury cases and Wrongful Death cases, Mr. Polewski has an even rarer qualification – membership in the

 

Million Dollar Advocates Forum. 
Mr. Polewski is also a member of the prestigious American Board of Trial Advocates, an invitation only, national organization of the most experienced trial lawyers in America, dedicated to the preservation of justice and the American civil justice system.  Licensed to practice law in both Texas and Arkansas, Mr. Polewski represents clients throughout both states.
For each of the last 20 years, Mr. Polewski has been awarded the top rating of "superb" in the AVVO rating system, based on reviews by other lawyers and clients (view Mr. Polewski's AVVO ratings and reviews

here). Mr. Polewski consistently ranks at or near the top of recommendations in the independent lawyer review site AVVO for medical malpractice lawyers in Arkansas and Texas. 
He is recognized as one of the top three medical malpractice lawyers in Little Rock by Three Best Rated (see Mr. Polewski's rating here).   Mr. Polewski is consistently top rated in both Arkansas and Texas by Expertise.
Mr. Polewski is also a recipient--for each of the last 20 years--of top ratings in the Martindale-Hubbell Peer Review process.  This ratings system, used by legal consumers for over 100 years, is based on the cohnfidential opinions of other lawyers and judges familiar with the lawyer being rated. 

Mr. Polewski's legal skills were rated by other lawyers and judges as "very high to pre-eminent," and his ethical standards were rated as "very high" – both of which are the top ratings possible.

Mr. Polewski is recognized as a "Super Lawyer" as rated by the Thomson-Reuters legal ratings system.
Contact Us Today
If we look like the kind of people you want representing you on your serious injury or medical malpractice case, call or email us about your case.  The consultation is free.